Chipotle Rub
Item Number 9880
A smoky blend of chipotle peppers, smoked paprika, garlic and cilantro. Gluten-free.

Chipotle Rub
Item Number 9880
$5.25
Add To Cart
Chipotle Rub
A smoky blend of chipotle peppers, smoked paprika, bell peppers, garlic and cilantro gives flavor and spice to salsa, tacos, fajitas, chili and meatloaf. 1.5 oz. Gluten-free.

As of September 1, 2014, all Pampered Chef® rubs, seasoning mixes, oils, vinegars, vanilla extract and savory sauces are gluten-free and easily identified by a red starburst on the label that reads "Gluten Free". If you are unsure if your Pantry Product is gluten-free, we recommend that you review the ingredient list on the label of your bottle.
Email
Print
Use & Care
How to Use
Prior to first use, remove bottle cap by turning counterclockwise.
Remove inner freshness seal; replace cap by turning clockwise.
The cap has a flip top for sprinkling.
How to Store
Store in a cool, dry place.
Ingredients
Spices*, salt, dehydrated garlic, green & red bell pepper granules, smoked paprika, chipotle chili pepper, silicon dioxide (anticaking).
*Spices include = black pepper, chili pepper, cilantro, cloves.

GLUTEN-FREE.
No preservatives added.
Nutrition Facts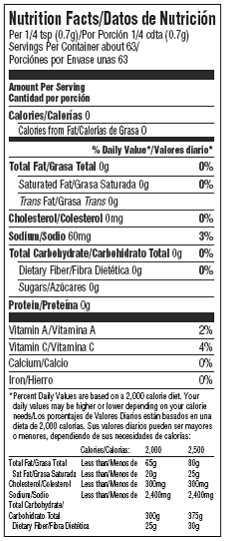 Certification
Chicago Rabbinical Council
Made in USA