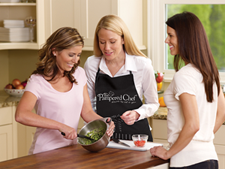 About Us
The Pampered Chef® is the premier direct seller of high-quality kitchen tools and part of Berkshire Hathaway. At in-home Cooking Shows, guests see and try products, prepare and sample recipes, learn quick and easy food preparation techniques and get tips on how to entertain with style and ease — transforming the everyday into the extraordinary.
The Pampered Chef® is committed to developing multi-purpose kitchen tools, providing expert cooking tips and creating simple recipes that enhance shared mealtime and suit busy lifestyles. With a product line that includes nearly 500 offerings — from entertaining to cookware, cutlery to cookbooks, Stoneware to pantry products, we have the simple and affordable solution to get your meal on the table.
Our Vision
At The Pampered Chef®, we have a vision that someday families all around the world will know the joy and rewards of gathering together in the tradition of family mealtimes. To help make this vision a reality, we specialize in high-quality tools that make cooking simple, easy and fun.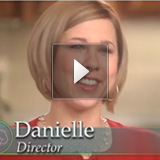 Our Mission
We are committed to providing opportunities for individuals to develop their God-given talents and skills to their fullest potential for the benefit of themselves, their families, our customers and the company.
We are dedicated to enhancing the quality of family life by providing quality kitchen products supported by service and information for our Consultants and customers.
Our Core Values
All-out Support for Consultant Success
Excitement, Interaction and Inspiration
Getting the Details Right
Our History
For 35 years, The Pampered Chef® and its sales force of Independent Consultants have been helping to gather families around the table for quick, delicious meals that are as much fun to prepare as they are to eat. The business was launched in 1980 by company Founder and Chairman Emeritus, Doris Christopher — an educator, home economist and mother who saw the need for professional-quality kitchen tools in the everyday kitchen.
Capitalizing on her knowledge of food preparation techniques and her natural talent for teaching, Christopher amassed an inventory of what she considered to be the essential home kitchen tools, promoted them under The Pampered Chef® name and began showcasing them at in-home cooking demonstrations called Cooking Shows.