Avocado Peeler
Item Number 1256
Stainless steel beveled edges slice avocados in half. Curved tip removes seed and guides blade around skin to remove flesh in one motion.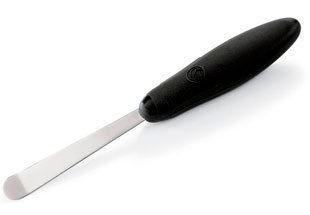 Avocado Peeler
Item Number 1256
$7.50
Add To Cart
Avocado Peeler
A smooth stainless steel blade glides through the flesh of avocados; the curved tip easily removes pits. An ergonomic handle is perfectly contoured for your hand. Great for peaches, kiwi and cantaloupe, too. 4" blade. Dishwasher-safe.
Email
Print
Use & Care
Wash prior to first use; dishwasher-safe.
With long edge of blade, slice avocado lengthwise around seed. Gently twist halves in opposite directions to separate.
Slide curved end of blade under seed and lift to remove from flesh.
To separate skin from flesh, start at the avocado's narrow end. Gently slide curved end of blade between skin and flesh, working around entire half until flesh is loosened. Remove flesh.
If desired, flesh can be sliced or diced in skin using the Peeler. This is perfect for salads or salsa!
For best results, use ripe semi-soft avocados.
Can also be used to half and pit peaches, remove mushroom stems or even remove kiwi flesh from tough skin.
Three-year guarantee for noncommercial use. Refer to sales receipt for details.
Made in Taiwan