Use & Care
Safety Instructions

Use and Care Instructions (See diagram)
Wash prior to first use. Hand wash; rinse and dry immediately.
Assemble:
Attach the red handle (G) to the metal arm (H) using the screw provided. When properly attached, the handle should move freely and rotate easily.
Make sure the beveled edge of the Corer/Slicer blade (F) is facing away from the three pronged fork.
Check that the three-pronged fork (D) is centered evenly in the Corer/Slicer opening. If necessary, loosen the bolt at the bottom of the blade using the enclosed crescent wrench* to adjust the position of blade.
Make sure the peeling blade (E) is aligned so that there is even space between the head and blade. If necessary, loosen the wing nut, adjust the blade, and tighten to secure.
Mount to a table top or thick cutting board by sliding the red rubber protector directly over the L-screw (A), clamping to desired location, and tightening the L-screw securely.
NOTE:
DO NOT OVERTIGHTEN; this could break the main body.
Usage:
Select only fresh, firm apples. Depress clamp (B), pull back shaft and press stem end of apple firmly on three-pronged fork. Make sure apple is centered on fork.
Turn red handle until peeling blade begins to peel. If blade clogs with a soft apple, simply clean the blade and continue to peel. NOTE: The peeling blade can be adjusted to accommodate different sizes of apples and potatoes. Simply loosen the wing nut and slide the blade out for a deeper cut, in for a thinner cut. Keep in mind that the AP/C/S may not be able to accommodate extremely large apples or soft textured apples.
To remove core from fork/prongs, press clamp down while gently pulling handle to original position. If core remains on fork, gently grasp core with fingertips and carefully pull off fork. Caution: Fork tines are sharp.
Tips and Techniques
To make apple rings; slice down one side of the peeled apple. To make slices, cut down both sides.
To core and slice without peeling, pull the peeling blade back until the locking bar drops into place; proceed as usual.
To peel without coring and slicing, loosen the bolt at the bottom of Corer/Slicer blade using the crescent wrench* and move the Corer/Slicer blade out of the path of the apple; proceed as usual.
This timesaving tool also works on potatoes and onions.
Occasionally oil all moving parts with vegetable oil.
Three-year guarantee for noncommercial use. Refer to sales receipt for details.
(A) - L-screw
(B) - Clamp
(C) - Rod
(D) - Three-pronged fork
(E) - Peeling blade
(F) - Corer/Slicer blade
(G) - Red Handle
(H) - Metal Arm
*Crescent wrench included with product.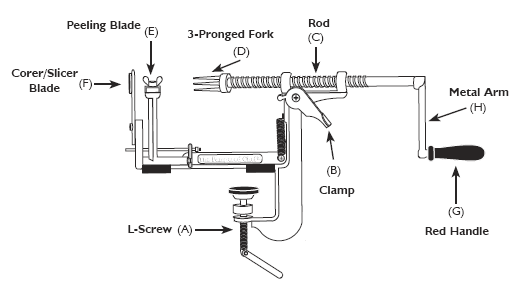 Made in China