Mix 'N Chop
Item Number 2583
Five curved blades chop food directly in the pan during cooking to create consistent-sized crumbles.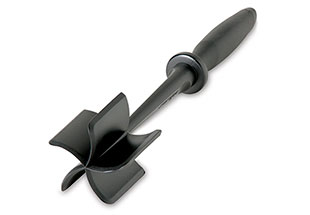 Mix 'N Chop
Item Number 2583
$12.00
Add To Cart
Mix 'N Chop
The unique, beveled pinwheel blades of our Mix 'N Chop are the easiest way to chop and crumble food. It gets into the corners of your cookware without scratching the surface. A must for ground beef and turkey, scrambled eggs and homemade tomato sauce!
Details
10¾".
Made of sturdy nylon.
Safe for all cookware, including nonstick.
Soft-grip handle.
Heat-resistant to 428°F.
Dishwasher-safe.
Email
Print
Use & Care
Wash prior to first use; dishwasher-safe on top rack. Due to the soft nature of the handle, do not place heavy or sharp items on the handle.
Place thawed food in cookware. Grasp handle, gently push downward into food and twist. Repeat motion throughout cooking until desired consistency is reached.
Five-year guarantee for noncommercial use. Refer to sales receipt for details.
Safeguard
Do not leave Mix 'N Chop in pan when burner is on.
Made in Taiwan