Use & Care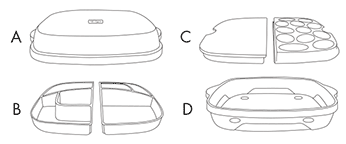 Components:
A — Lid
B — Trays (2)
C — Inserts (2)
D — Base
Wash prior to first use; dishwasher-safe. Trays and inserts are dishwasher-safe when placed away from heating element.
Clear plastics can spot or gather residues in the dishwasher just like glassware. Using a rinse agent can help minimize this result. When hand washing, drying immediately will also help minimize this result.
Do not use abrasive cleansers, such as steel wool or cleansing powders to avoid scratching the clear parts.
To use:
Place inserts in freezer overnight prior to use. Inserts can be permanently stored in freezer so they are ready to use.
Remove inserts from freezer and place into base with desired serving side facing up. Trays can be placed on the flat side of the inserts or used without inserts.
To secure lid onto base, align handles and gently push down. To remove lid, lift tab from one handle and repeat on opposite handle.
Due to the effectiveness of the insert, it is not recommended to store food on frozen inserts in the refrigerator; food may stick or freeze to inserts. For best results, remove inserts from freezer and place food on inserts before serving or transporting.
Serving tips:
Trays and inserts can be placed in a variety of configurations to accommodate your serving needs:
Deviled eggs: Place frozen inserts egg-side up into base.
Vegetable or fruit tray: Place frozen inserts flat-side up into base; place trays on top. Fill wells with your favorite dip and surround with vegetables or fruit.
Deli platter: Place frozen inserts flat-side up into base. Arrange deli meats and cheeses on surface.
Chips and dip: Place one frozen insert flat-side up into base; place one tray on top of insert. Fill tray well with favorite dip. Arrange variety of chips in other wells and empty portion of base.
Use lid and base to transport cupcakes or pies. For best results, place silicone trivet underneath pie to help stabilize during transport.
Guarantee:
Three-year guarantee for noncommercial use. Refer to sales receipt for details.
Safeguards:
Gel is nontoxic.
Not microwave-safe.
Intended for cold foods only. Do not place hot foods on inserts, trays or base.
Made in USA