Small Bamboo Knife Block Set
Item Number 1112
Tucked in this compact bamboo block are the Forged Cutlery 5" Santoku, 5" Utility and 3" Petite Paring Knives plus Professional Shears. Two additional slots let you add to your set.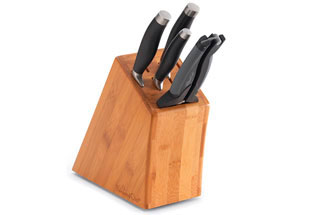 Small Bamboo Knife Block Set
Item Number 1112
$165.00
Add To Cart
Small Bamboo Knife Block Set
Save on the set! Our Small Bamboo Knife Block Set has everything you need to start a high-quality cutlery collection. These sharp, balanced knives will make every cutting task in your kitchen so much easier.
Forged Cutlery
Includes three pieces of Forged Cutlery:

5" Santoku Knife
Petite Paring Knife
Utility Knife

Finely crafted of fully forged, high-carbon German steel for a perfect edge and sharpness, stain and corrosion resistance, and superior strength and durability.
Full tang for strength and perfect balance.
Tapered blades for precise cutting.
Ergonomically contoured, chip-resistant handles for a comfortable grip.
The storage covers (included) will keep your hands safe and protect your knives.
Last for a lifetime—it's guaranteed.
Hand wash.
Professional Shears
2½" blades.
Stainless steel blades.
Soft-grip handles.
Spring-action design keeps your hands from tiring.
Protective cover and blade lock for safety.
Dishwasher-safe.
Small Bamboo Knife Block
8" x 3¾" x 9¾" (20 cm x 9.5 cm x 24.5 cm).
Made of solid bamboo with a rich, caramel finish.
Features 6 slots, so you'll have room to add to your collection.
Slots are designed to store knives blade-side-down without dulling the edges.
Nonskid feet.
Hand wash.
Email
Print
Use & Care
Safety Instructions
Knives and sharp blades can injure you.
Always keep knives and all other cutting devices out of children's reach.
Use and Care Instructions
Wipe exterior with damp cloth as needed, towel dry immediately. Do not bleach, submerge in water or place in dishwasher.
Subtle color variations may occur due to natural variations in bamboo and the handcrafting process.
To store knives:
Hand wash and towel dry knives prior to storing in Small Bamboo Knife Block.
Carefully insert knife with blade edge facing downwards into slot. Review diagram for recommended knife and shear placement.
Although the slots were specifically designed for Pampered Chef's Forged Cutlery, the Small Bamboo Knife Block can also accommodate many other knives in the marketplace.
Three-year guarantee for noncommercial use. Refer to sales receipt for details.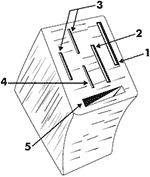 Key for The Pampered Chef® Forged Cutlery:
1 large slot (ideal for Chef's and 7" Santoku)
1 medium Santoku slot (ideal for 5" Santoku)
2 medium slots (ideal for Utility, Boning, Paring)
1 small slot (ideal for Serrated, Petite Paring)
1 shears slot
Made in China