Rockcrok® Casserole
Item Number 3141
NEW!
Just right for side dishes, appetizers and desserts.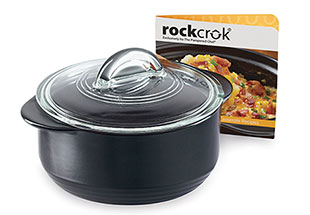 Rockcrok® Casserole
Item Number 3141
$99.00
Add To Cart
Rockcrok® Casserole
NEW!
Just right for side dishes, appetizers and desserts. Can also be used for smaller portions of soups, stews and pastas. 2-qt. capacity; 7½" diameter. Includes 8 recipe cards.
About Rockcrok®:
Rockcrok® ceramic cookware is created from a clay that features exceptionally high heat resistance after firing. Takes the heat you dish out®!
Pans are heat-resistant to 752°F — safe on gas, electric and flat-top stovetops, gas and charcoal grills, in the oven and microwave, and under the broiler.
Consistent heat distribution helps you brown food perfectly.
Extra-long heat retention keeps food hot in the pan until everyone's finished their second helpings.
Glazed ceramic pieces don't require pre-soaking or seasoning.
Pans resist thermal shock, so you can safely take them straight from the refrigerator to the heat source.
Glass lids let you keep an eye on food while it cooks without lifting the lid and releasing steam. Lids are oven-safe to 400°F. Lids are not grill-safe.
Freezer- and dishwasher-safe.
Includes these exclusive recipes:

Rio Grande Dip
Sweet and Tangy BBQ Meatballs
Scalloped Corn Spoonbread
Mediterranean Orzo
Easy Twice-Baked Potato Casserole
Upside-Down Praline Carrot Cake
Peanut Butter Chocolate Pudding Cake
Email
Print
Use & Care
Cooking with your Rockcrok®
Eight recipe cards are included to get you started right away! Recipes included highlight
the versatility of cooking with your Rockcrok®. We hope these provide inspiration and
become new family favorites! When cooking meals in your Rockcrok®, follow these guidelines:
Stovetop Use:
Always match diameter of cookware to stovetop burner diameters and position the pan centrally over the burner. For gas stoves, flames should not extend beyond the base of the cookware.
Preheat pan for 3 – 5 minutes on medium heat. Amount of time varies per stovetop. As needed, gradually increase heat up to medium high when browning foods. Because the pan retains heat well, continue to adjust heat levels as needed during the duration of cooking. Only use high heat when bringing liquids to a boil.
For best release of foods, use oil or butter. It is normal for fond (or burnt-on food residues) to develop on the cooking surface. Follow deep cleaning directions to remove.
When cooking on the stovetop, always keep interior bottom surface fully covered with food or liquid to prevent dry spots. Dry spots are areas of the glaze that appear dry or absent of liquid that become hotter because it is not covered with food or liquid for an extended period of time. This could cause pitting to the glaze and void the guarantee. To prevent dry spots, add additional liquid (such as oil, butter or stock) and/or stir and move foods occasionally when cooking to keep the surface covered and moist.
Due to the unglazed foot ring, avoid sliding or dragging the pan over the stovetop surface, especially flattop stoves. Use handles to lift the pan when moving to prevent scratches.
BBQ Outdoor Grill Use:
Pan is safe to use on charcoal or gas grills using direct or indirect heat. Do not use on a campfire.
Lid is not grill-safe. As an alternative, use heavy-duty aluminum foil to cover the top of the pan if needed.
Refrigerator and Freezer Use:
Pan and lid are refrigerator- and freezer-safe. Cool completely prior to placing in refrigerator or freezer.
Not intended for long-term storage of foods.
Do not take pan and lid directly from freezer to oven, stovetop, microwave or grill. Thaw food in pan prior to reheating. Always thaw frozen meals or other frozen dense foods prior to cooking in the Rockcrok®.
Nonstick Sprays and Oils: NEVER use nonstick sprays on the cookware as they cause an invisible buildup and impair the performance. This will void the guarantee.
Utensils: Only use non-metal utensils, such as nylon, silicone, bamboo or wood. Metal utensils will cause permanent damage to the surface and will void the guarantee.
Cleaning
Standard Care:
Wash prior to first use; lid and pan are dishwasher-safe. Dry completely after cleaning.
Due to unglazed footring, leaving pan completely submerged in water for an extended period of time is not recommended.
Deep Cleaning – Pan:
Remove food and cooked-on residues prior to dishwashing. For best results, fill pan with enough water to cover residues; bring to a boil. As needed, use a bamboo spoon to gently scrape residues to loosen. Turn off heat and allow water to sit until cooled. Remove water; clean using soapy water and non-abrasive sponge or kitchen brush.
To remove burnt-on food residues or discoloration, use a non-bleach, all-purpose liquid or powdered cleanser that is safe for cookware. Do not use abrasive cleansers. Follow cleanser label directions for use.
Storage:
Invert lid to nest during storage.
Do not stack with other pots and pans to prevent scratching or chipping.
Safeguards
Do not leave pan empty on a hot burner for an extended period of time (beyond preheating time) or boil dry.
Pan and lid handles are not designed to stay cool. Pan and lid handles will get hot during cooking. Always use a heat-resistant oven mitt or pad when handling hot pan or lid.
Always place hot pan and lid on a cooling rack, hot pad or trivet to avoid damage to countertops or table.
Dropping or hitting the pan or lid against a hard surface can cause chipping or breaking.
Pan should not touch broiler heating element, side walls or doors of oven, microwave or grill when closed.
Guarantee
Five-year guarantee for noncommercial use. Refer to sales receipt for details. Product returned is subject to inspection for proper use and care.
Lid Made in China
Vessel Made in Korea
CERTIFICATE OF GUARANTEE
The Pampered Chef guarantees that customers will be completely satisfied with its products.
Consumable Products
Our guarantee on consumable products is limited to spoilage, damage in shipping, or error on our part.
Nonconsumable Products
All non-consumable products have a minimum one-year guarantee unless noted otherwise. Misuse or use contrary to the Use and Care instructions will void this guarantee.
If you need to return a product, please contact the Solution Center within 30 days from the ship date of the order. Upon timely notification and official sales receipt or copy of confirmation email, we will make prepaid arrangements for the item to be returned for replacement, refund or exchange.
If you need to return a product after 30 days but within one year from the ship date of the order, contact our Solution Center. Upon return of product with official sales receipt or copy of confirmation email (at your expense), we will replace, refund or exchange the item for any other item available for sale at the time of the original purchase, provided it has not been discontinued.
Any price difference for an exchange will be adjusted. Refunds will not exceed payment made at the time of purchase.
Products with an (LTD) symbol have a Limited Guarantee.
The Limited Guarantee covers only satisfaction with the product, manufacturing defects or damage during shipping, that is reported within 30 days from the ship date of the order. Upon timely notification, the item can be returned for replacement, refund or exchange. Returned items must be unused, in original packaging, and with the original sales receipt. Incidental or consequential damages are not recoverable.
Products with the (#) symbol have an Extended Manufacturer's Guarantee (indicated by the number of years stated).
Certain products have a Lifetime Guarantee (L). This guarantee extends only to the original purchaser or gift recipient of the product.
The Extended Manufacturer's Guarantee and the Lifetime Guarantee are limited. They cover repair or replacement only. They cover defects in materials and workmanship. They do not cover commercial use, abuse, misuse, ordinary wear and tear, or an act of God. Incidental or consequential damages are not recoverable under these warranties. If actual product replacement cannot be made due to unavailability, Company may, in its discretion, offer comparable product replacement or credit towards future product purchases. Maximum credit allowed for future product purchases will be the price paid for the covered product.
To close this window, please click anywhere outside of the box.