Stainless Steel Mixing Bowl Set
Item Number 1735
Made of stainless steel with silicone nonskid base and a soft thumbhole for comfort.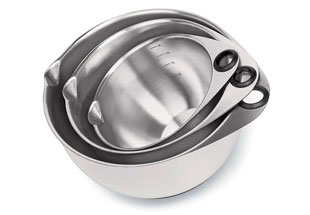 Stainless Steel Mixing Bowl Set
Item Number 1735
$99.50
Add To Cart
Stainless Steel Mixing Bowl Set
Our brushed stainless steel bowls have silicone bottoms and padded thumbholes to keep them steady. Standard and metric measure marks inside the bowls give you a quick reference. Spouts help you pour liquids, portion pancake batter and more. Bowls and included lids nest for compact storage. Set of 2, 4 and 6 qts. Dishwasher- and freezer-safe.
Email
Print
Use & Care
Wash prior to first use; lid and bowl are dishwasher- and freezer-safe.
To maintain the beauty of your stainless steel bowls, periodically use a powdered cleaner/polisher for stainless steel.
Five-year guarantee for noncommercial use. Refer to sales receipt for details.
Safeguards
Do not use in microwave, broiler or on direct heat source.
Metal utensils may scratch the surface of the bowls. This is normal and occurs with all stainless steel products.
Silicone bottom may cause marring on some surfaces if dragged across surfaces.
Made in China