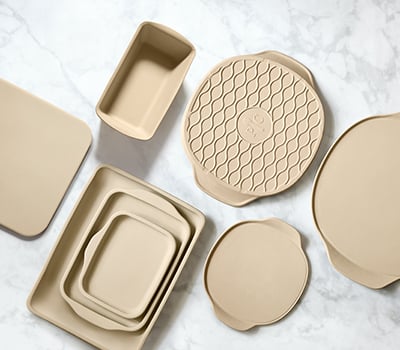 Unglazed Stoneware
Our stones made with the StoneFusion formula turn out impossibly perfect crusts, juicier meats, and baked goods that are evenly browned. Our most durable stoneware yet, it's dishwasher-safe, can be preheated, and go under the broiler. Plus, it develops a nonstick finish as you use it.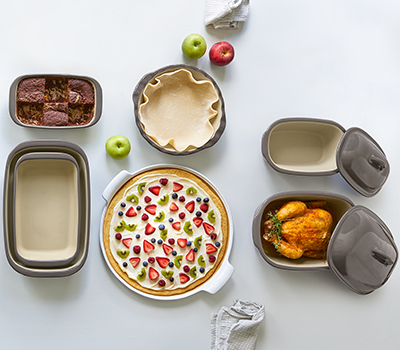 Partially Glazed Stoneware
These feature elegant glazed exteriors for oven-to-table ease and unglazed interiors for perfect cooking in the oven or microwave. The unglazed surfaces are made from our original stone material and will develop a natural, nonstick finish with use. Hand wash.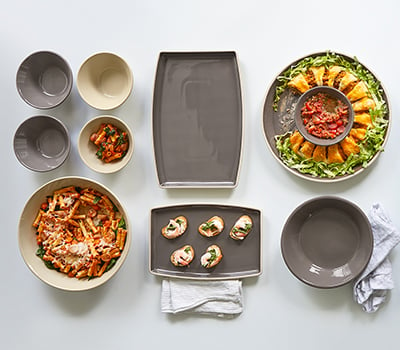 Glazed Stoneware
These elegant oven-to-table-to-dishwasher stones add a warm welcome to gatherings whether you're serving weeknight pasta or a holiday showstopper. They retain heat to help keep food warm and look great on any table. No seasoning is needed, and they're dishwasher-safe.
See Stoneware in Action
Watch the Videos
- Notes from Happy Customers -
"I simply love the way food cooks in this. Made quite a few casseroles and they come out perfect. Bonus is cleans so easy too!! "
– Syphus from Flat Rock, MI
"A family treasure. I highly recommend the Deep Covered Baker to anyone who wants delicious, juicy, perfectly cooked dishes! "
– Pammy from Houston, TX
"These are my absolute favorite. I use them for everything and love the way my food turns out. I will never cook with glass bakeware again."
– Manda from the USA
"I cannot say enough about this pan. It's great for eating baked instead of fried. It's a must have if you're a cook. "
– Impressed Cook from Simpsonville, SC
"More than 20 years later, my stones are so seasoned after being used hundreds of times. Highly recommend them to everyone!""
– Stoneware Super Fan from Navarre, FL
"I love the glazed stoneware! Everything cooks so well on it."
– Beth from MA