– Our Fully Forged Cutlery Collection –
Staying Sharp
When we launched our forged cutlery line in 2006, it was on the cutting edge—tapered blades, ergonomic, and unbelievably sharp kitchen knives. As technology has changed and improved, so have our knives, and our new fully-forged cutlery collection is unequivocally best in class. Our Chef's Knife, for example, is up to 40% sharper than other comparable knives, stays sharper for longer, and performs at the highest levels in both initial sharpness and edge durability. And that's just the start. The one thing that hasn't changed since we first introduced our forged cutlery, though? It still has a lifetime guarantee.
Sharper, Better, Faster, Stronger
We consistently hear from our customers that all it takes is one use and they're hooked on our knives. We haven't changed anything that makes them great. We focused on how to make them even better. The improved bolster optimizes weight and balance. Smarter elliptical handles give you better control and precision. New pakkawood handles combine the beauty of wood with the strength and durability of plastic. You can buy individual knives to update your current collection, or you can buy our entire new set, which includes six core kitchen knives, plus an acacia wood knife block, kitchen shears, and a user-friendly knife honing tool.

SHOP THE COLLECTION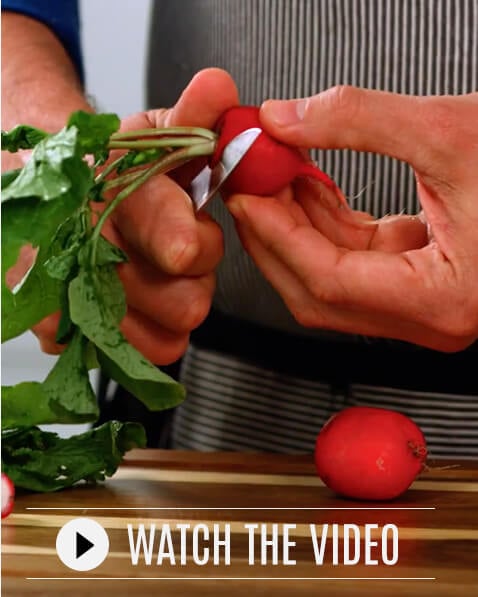 Watch: Right Knife for the Job
Of the six knives in the new knife collection, which one works best for tough root vegetables? Or meat? What about tomatoes? If you're one of those people who never uses all the knives in the knife block, you're missing out. Watch this video, which gives you a quick primer on how to choose the right knife for the job at hand.

SHOP THE COLLECTION
Kitchen Must-Have: Cutting Boards
A knife is of little value in the kitchen unless it's paired with a durable, useful cutting board. The fully forged cutlery collection has the perfect complement: our new Wood Cutting Board. It's made of acacia wood and is reversible, with a flat side for serving, and a welled side with a pour spout for prepping. It makes a gorgeous addition to your kitchen, and looks great on your countertop even after the prepping and cutting is done.

SHOP THE COLLECTION
More Reasons to Love the Collection
German Steel
Like other top-quality knives, ours are handcrafted and fully forged from a single piece of German steel, which means they're stronger, more durable, and made to last.
Full Tang
Our knives have a full tang—which you can see running through the handle—that provides extra strength and balance.
Steak Knife Details
The
Steak Knife Set
has an updated look to match the aesthetic of the rest of the fully-forged cutlery line. Bonus: Our steak knives have serrated tips that help cut through meat.
Best-in-Class Shears
New Kitchen Shears
in the collection are made of German-cast stainless steel. They easily cut through everything from chicken bone to fine cheese cloth, and they come apart for easy cleaning.
Versatile Knife Block
The new
Knife Block
has slots for six kitchen knives and eight steak knives, plus extra room if you have other favorites in your collection. The slots are horizontal to make room for more knives in a slimmer design—which saves space on your counter.
Benefits of Wood
Our
Wood Cutting Board
won't dull blades like glass or ceramic boards, and it has natural antimicrobial properties that can fight off bacteria. Also, acacia wood, which is used for both our knife block and our wood cutting board, is harvested at a much younger age than other hardwoods, so it's a lot more sustainable.
Grip Guide
The Chef's Knife has a Grip Guide on the blade—a round Pampered Chef logo that reminds you how to hold it correctly.
zoom_in
zoom_in
zoom_in
zoom_in
zoom_in
Edge
The best-in-class tapered blade of our 8" Chef's Knife starts sharper and stays sharper, letting you make precise cuts.
Grip Guide
The Pampered Chef logo on the 8" Chef's Knife isn't just for decoration. It's a grip guide that shows you where to place your index finger and thumb when using it.
Bolster
A specially designed bolster evenly distributes weight and keeps the knife balanced.
Handle
The ergonomic pakkawood handle is extra durable and gives you better cutting control and comfort.
Full Tang
Each knife in the collection is finely crafted from a single piece of fully forged, high-carbon German steel to give it strength and balance.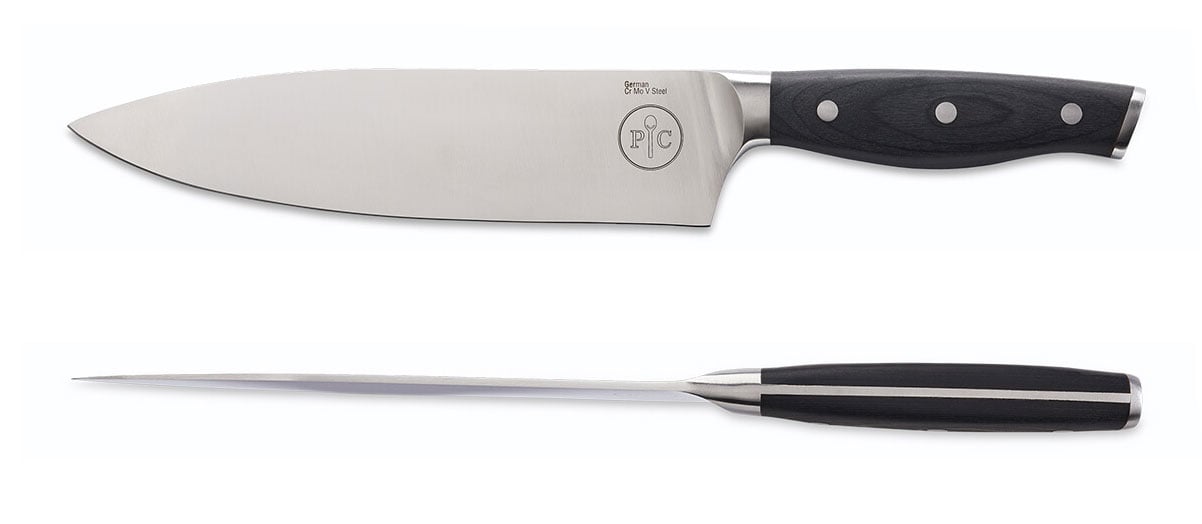 - Notes From Happy Customers -
"They look and perform just as well now as they did when I first got them."
–Impressed Home Cook, St. Louis, Mo.
"I've always wanted sharp knives. It's so nice knowing I can grab a knife and whatever I'm going to cut, the knife will work."
–Sharp Knife Seeker, Washington, D.C.
"I've been cutting, chopping, and cooking for 40 years, and this cutting board is my favorite."
–Grooved Cutting Board Fan, Ohio