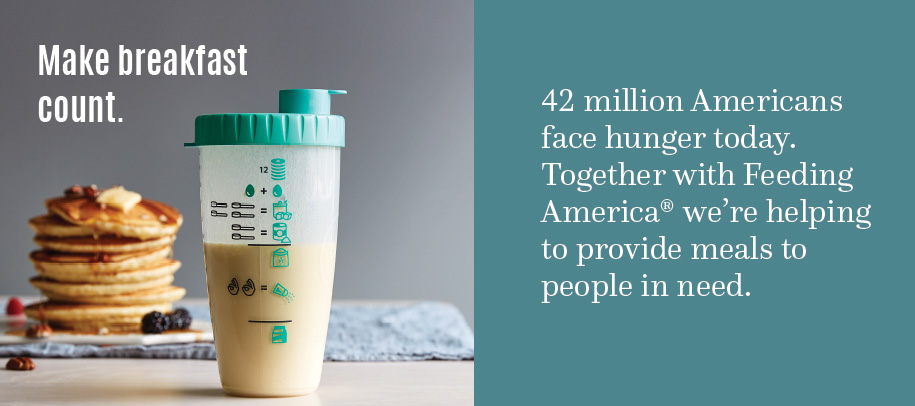 Help Pampered Chef®fight hunger. The need is greater than you think.
42 million Americans—including 1 in 6 kids—don't know where their next meal will come from. Pampered Chef has partnered with Feeding America®, the nation's largest domestic hunger-relief organization, to help provide meals to those in need. Through your generosity to our Round-Up from the Heart® program, we've raised more than $25 million since 1991 for Feeding America® and during our 2016-2017 campaign, we raised enough in just one year to provide nearly 9 million meals!
Our Round-Up from the Heart® program offers three ways to help fight hunger:
Each Pancake Shaker Bottle purchased from March 1–Aug. 31, 2018 will help Feeding America® provide 11 meals to help end hunger.
Round up your order. When you round up your order, 100% of your contribution goes to benefit your local area Feeding America® member food bank—helping the people in your community that are struggling with hunger. Find your local food bank.
Host a fundraiser party to make a bigger impact. When you have a Feeding America® fundraiser party, a portion of the total sales will be contributed to the Feeding America® national office to help in the fight against hunger, helping families across the country.
To book a party or fundraiser, or to learn more about the Round-Up from the Heart® campaign, find your local Pampered Chef consultant by calling (888) OUR-CHEF (687-2433) or Find a Consultant.
* $1 helps provide 11 meals secured by Feeding America® on behalf of local member food banks. Pampered Chef® guarantees a minimum donation of $250,000 through the purchase of select Pampered Chef® products and other fundraising activities associated with the Round-Up from the Heart® campaign from Sept. 1, 2017–Aug. 31, 2018. Meal claim valid as of July 1, 2016, and subject to change.