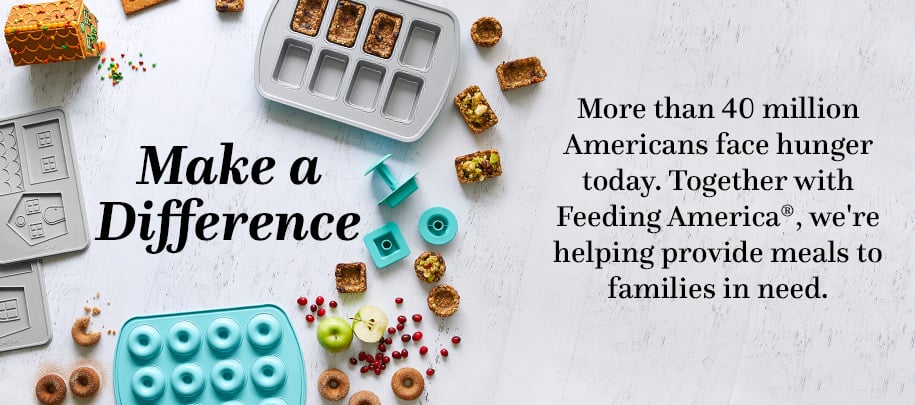 Help Pampered Chef End Hunger. The Need Is Greater Than You Think.
Hunger knows no boundaries. It affects more than 40 million Americans, including 1 in 6 kids, all across the country. In an attempt to create change, Pampered Chef has been partnering with Feeding America® since 1991 to support their mission to end hunger. The Feeding America® network is the nation's largest domestic hunger-relief organization, working to help provide more than 4 billion meals annually to people in need.
Our partnership with the organization is very important to us because food insecurity is a real problem we need to help change. Just one meal can make a difference to people who need it most. In America, 1 in 8 people struggle with hunger—it could be your neighbor, child's classmate, or even a coworker. For that one person, it's not clear when their next meal will come. It's important to do everything we can to help those facing hunger live more secure and stable lives.
There are many ways you can help, including donating to food banks and meal programs. Many of us think to donate in the fall and winter, especially around the holidays, but it's just as important to donate all year long, including the summer, when the need is just as high.
Our Round-Up from the Heart® program offers three ways to help.
Round up your order. When you do, 100% of your contributions benefit your local Feeding America® member food bank, helping people in your community.
Buy the Boat Press Set, Cookie House Molds, Donut Pan, and/or Mini Loaf Pan from Sept. 1, 2019-Feb. 29, 2020. Each purchase will help provide at least 10 meals* to Feeding America® to feed the families who need it most.
Host a fundraiser party. When you have a Feeding America® fundraiser, we'll contribute a portion of the total sales to the cause, helping families all across the country.
Through your generosity to our Round-Up from the Heart® program, we've raised more than $27 million for the cause. Together, we can make a difference!
$1 helps provide at least 10 meals secured by Feeding America® on behalf of local member food banks. Pampered Chef® guarantees a minimum donation of $250,000 through the purchase of select Pampered Chef® products and other fundraising activities associated with the Round-Up from the Heart® campaign from Sept. 1, 2019–Aug. 31, 2020. Meal claim valid as of July 1, 2019, and subject to change.