Sorry!

The page you're looking for isn't here.

It may have been moved, deleted or we're working to make it even better. (The page might not even exist!)

Try our home page for a new direction.
But wait…
Here's a recipe to make it up to you!
Grilled Mediterranean Pizza
---
Ingredients
3 large plum tomatoes
1/2 cup (125 mL) pitted ripe olives
2 tsp (10 mL) red wine vinegar
2 tsp (10 mL) canola oil, divided
1 garlic clove
1/2 tsp (2 mL) sugar
1/8 tsp (0.5 mL) each salt and black pepper
1/4 cup (50 mL) loosely packed fresh basil leaves
6 oz (175 g) cooked Italian-style chicken sausage
8 oz (250 g) part-skim mozzarella cheese (2 cups/500 mL grated)
Cornmeal or flour for dusting (see Cook's Tips)
1 pkg (13.8 oz/283 g) refrigerated pizza crust
Directions
Yield: 8 servings of 2 pieces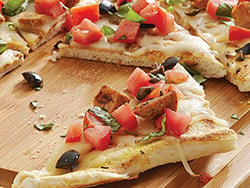 Nutrients per serving: Calories 450, Total Fat 23 g, Saturated Fat 11 g, Cholesterol 110 mg, Sodium 890 mg, Carbohydrate 30 g, Fiber 2 g, Protein 28 g
U.S. Diabetic exchanges per serving: No information is currently available.
©2014 The Pampered Chef used under license.