BBQ Grill Tray
Item Number 2708
Grill delicate foods such as fish or vegetables. Generous size allows you to lay foods in a single layer to promote even cooking.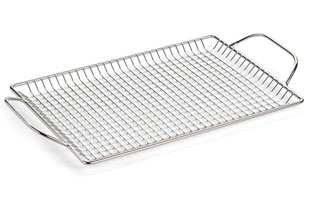 BBQ Grill Tray
Item Number 2708
$32.50
Add To Cart
BBQ Grill Tray
The large stainless steel frame and thin wires make the perfect surface for grilling fish, asparagus, quesadillas or meatballs. Great for delicate or smaller foods like shrimp, too! Angled sidewalls keep foods from sliding off. Integrated handles are large enough to easily grasp the tray, yet compact enough to cook with the grill lid closed. 14" x 10". Dishwasher-safe.
Email
Print
Use & Care
Wash prior to first use; dishwasher-safe. Use a kitchen brush between uses to remove food build-up from metal wires.
Pre-heat grill following grill manufacturer's directions.
Spray Grill Tray with vegetable oil or non-stick spray.
For best results, allow tray to pre-heat by placing on hot grill grid for approximately 3 minutes.
Carefully place food onto tray and cook following recipe directions. It will be necessary to use a heat safe tool to turn food for even cooking.
Use caution when transferring tray or removing food from tray as small food items such as grape tomatoes could fall through corners.
BBQ Grill Tray will naturally darken with each use.
Safeguards
Hot grill tray can cause burns if handled improperly. Always use a heat-resistant oven mitt or pad when handling hot tray or placing on surfaces.
Hot tray should not be placed directly on non-metal surfaces such as grill side-tables.
Three-year guarantee for noncommercial use. Refer to sales receipt for details.
Made in China