BBQ Grill Basket
Item Number 2707
Exclusive grill basket offers a convenient way to grill small pieces of vegetables, meat and seafood. Accommodates large amounts of food at one time while still allowing room on grill to cook other foods.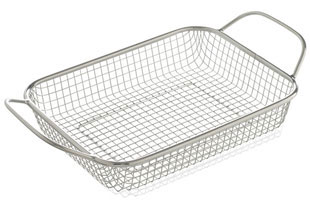 BBQ Grill Basket
Item Number 2707
$29.50
Add To Cart
BBQ Grill Basket
Stainless mesh basket makes it easy to grill foods like shrimp and veggies. Rectangular design takes up less space so you can grill other foods at the same time, even with the lid closed. Integrated handles help you easily move the basket. 11" x 8 ½" x 2". Dishwasher-safe.
Email
Print
Use & Care
Wash prior to first use; dishwasher-safe. Use a kitchen brush between uses to remove food build-up from mesh.
Pre-heat grill following grill manufacturer's directions.
Spray Grill Basket with vegetable oil or non-stick spray.
For best results, allow basket to pre-heat by placing on hot grill for approximately 30 seconds.
Carefully place food into basket and cook following recipe directions. It will be necessary to use a heat safe tool to stir food periodically for even cooking.
BBQ Basket will naturally darken with each use.
Safeguard
Hot Grill Basket can cause burns if handled improperly. Always use a heat-resistant oven mitt or pad when handling hot basket or placing on surfaces.
Hot basket should not be placed directly on non-metal grill side-tables.
Three-year guarantee for noncommercial use. Refer to sales receipt for details.
Made in China