Skillet Dinner Set
Item Number 2553
Includes Executive Nonstick Skillet, Glass Lid, and Mix 'N Chop.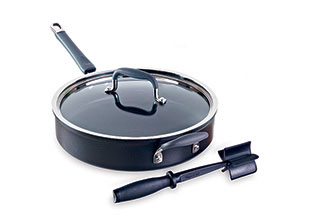 Skillet Dinner Set
Item Number 2553
$210.00
Add To Cart
Skillet Dinner Set
Our Skillet Dinner Set is your go-to for one-pan dinners or for whipping up family favorites. The set includes the Executive Nonstick 12" Skillet, which is perfect for no-fat, low-fat and no-fuss cooking, the Executive Nonstick Glass Lid, and the perennial best-selling Mix 'N Chop—a must for ground beef and turkey, scrambled eggs and homemade tomato sauce.
Details
Executive Nonstick Skillet
12".
5 qts.
Lid sold separately.
Hard-anodized aluminum reinforced with titanium helps it keep its shape and distribute heat evenly.
Top-of-the-line, high-performance DuPont™ Autograph® 2 nonstick coating.
Thick bottom and thin walls give fast and even heat distribution.
Flared rim lets you pour without dripping.
Safe for use on gas and electric cooktops. Oven-safe to 400°F.
We stand by our Executive Nonstick Cookware—it's guaranteed for life.
Hand wash.
Mix 'N Chop
10¾".
Made of sturdy nylon.
Safe for all cookware, including nonstick.
Soft-grip handle.
Heat-resistant to 428°F.
Dishwasher-safe.
Executive Nonstick Glass Lid
12".
Low-dome, tempered glass.
Stainless steel rim and a silicone-coated stainless steel handle that matches the Executive Nonstick cookware.
Oven-safe to 400°F.
Dishwasher-safe.
Email
Print
Use & Care
Includes:
See individual product pages for more information.
Made in Thailand