Trifle Bowl
Item Number 2832
Trifle Bowl has a flat bottom and straight wall design with removable pedestal. 15-cup capacity. Includes a lid.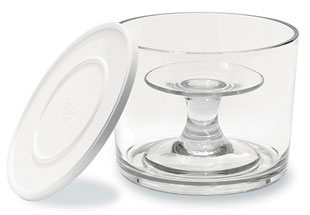 Trifle Bowl
Item Number 2832
$41.00
Add To Cart
Trifle Bowl
Showcase desserts, salads, layered dishes and centerpieces in our elegant, clear glass Trifle Bowl. Its classic design features a flat bottom, straight walls and removable pedestal for versatile use, plus it comes with a handy plastic lid for storage or transportation.
Details
7¼" diameter x 6" high.
9¼" total height with pedestal and lid.
3½" pedestal height.
15 cups.
Dishwasher-safe.
Email
Print
Use & Care
Wash prior to first use; bowl, pedestal and lid are dishwasher-safe.
Assemble food in bowl prior to placing on pedestal.
To serve, position pedestal on a flat, even surface. The side with The Pampered Chef® logo will contact the countertop or table. The side with no logo will contact the bottom of the filled Trifle Bowl. Securely position filled glass bowl on pedestal.
To store or clean, remove glass bowl from pedestal.

Remove bowl from pedestal prior to transporting. Position lid on bowl to cover foods during transport or storage.
Glass is fragile. When transporting or storing your trifle bowl empty, always secure pedestal to prevent chipping or breakage. To secure, fully wrap pedestal in a towel or use the original protective box before placing in bowl. If transporting in a vehicle, Trifle Bowl should be stabilized such that it does not move.
For stubborn stains on lid, wash with a light solution of bleach and water (1 tsp/5 mL bleach to 1 cup/250 mL water).
Five-year guarantee for noncommercial use. Refer to sales receipt for details.
Made in USA