The Plant-Based Plate
Item Number 2498
These plant-based main-dish recipes are so delicious, you'll never miss the meat.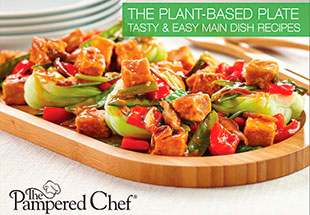 The Plant-Based Plate
Item Number 2498
$3.50
Add To Cart
The Plant-Based Plate
These plant-based main-dish recipes are so delicious, you'll never miss the meat.

Includes:


Spaghetti Squash with Vegetable Primavera
Go Green Salad with Mochi Croutons
Chickpea and Sweet Potato Cakes with Pineapple Salsa
Spicy Orange Tofu and Vegetable Stir-Fry
Pesto Polenta Squares with Tomato Ragout
Email
Print
Use & Care
Five all-new main dish recipes.
Each recipe with a full-color photo.
Recipes don't contain any animal products, including eggs, milk, cheese or other dairy products or honey.
Recipes represent a range of flavor profiles and highlight fresh ingredients for a new way of cooking.
All recipes can be made in 45 minutes or less.
About Our Recipes
All recipes were developed and carefully tested in Pampered Chef Test Kitchens. As an important first step, we suggest you read through the recipe and assemble the necessary ingredients and equipment. For best results, we recommend you use the same ingredients indicated in the recipe, and do not substitute.

Notes on Nutrition
The nutrition information in The Plant-Based Plate can help you decide how these recipes can fit into a plant-based diet and your overall meal plan. The nutrient values for each recipe were derived from The Food Processor SQL Edition, Version 10.11.0. (ESHA Research). In addition to listing calories, total fat, saturated fat, cholesterol, sodium, carbohydrates, fiber and protein, we include two items commonly used by people with diabetes: diabetic food exchanges and carb choices. This information is based on the most current dietary guidelines, Choose Your Foods: Exchange Lists for Diabetes (formerly Exchange Lists for Meal Planning) Sixth Edition, 2008 by Academy of Nutrition and Dietetics (formerly the American Dietetic Association). Always consult with your physician, registered dietitian, or certified diabetes educator, who will address your individual needs.

Nutritional analysis for each recipe is based on the first serving yield whenever a range is given and the first ingredient listed whenever a choice is given and does not include optional ingredients, garnishes, oil used to grease pans, or serving suggestions. The ingredients used for nutritional analyses are based on the ingredients indicated in the recipe.
Printed in the USA