Deep Covered Baker
Item Number 1321
Create flavorful roasts or oven-to-table casseroles with this exclusive Stoneware Deep Covered Baker. Lid helps retain moisture and is ideal for braising meats or creating flavorful soups or stews.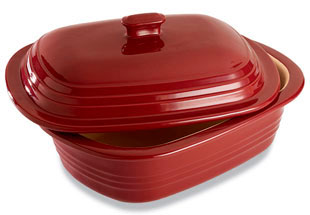 Deep Covered Baker
Item Number 1321
$88.00
Add To Cart
Deep Covered Baker
Bake a 5-lb. chicken or turkey breast, 4-lb. roast, casseroles and more! Unglazed on the inside for perfect baking, glazed on the outside for perfect presentation. Lid inverts into baker for space-saving storage. 12½" x 9½" x 5½"; 12½ cups. Includes Pan Scraper for cleaning. In cranberry.

About Stoneware:

No preheating—just place food on Stoneware and cook. (Dense frozen foods like meat should be thawed first.)
Absorbs and retains heat for even baking and golden crusts.
Draws moisture away from food so it cooks light and crispy.
Virtually nonporous, so it doesn't retain oils, odors or flavors.
Nonstick "seasoning" builds up with every use: the darker it looks, the better it cooks!
Microwave-, freezer-, conventional and convection oven-safe.
Email
Print
Use & Care
Hand wash only; wash prior to first use. Remove excess food with scraper. It is not recommended to use soap, detergent or an automatic dishwasher. Not dishwasher-safe.
Stoneware will naturally season and develop a natural nonstick surface over time with use.
Slight sticking may occur for the first several uses. For best results, bake high-fat foods (e.g., refrigerated biscuits) or lightly brush with cooking oil for the first several uses. Aerosol nonstick spray is not recommended; it will create a sticky residue which is difficult to clean.
Stoneware can be used in conventional, convection and microwave ovens, and is freezersafe. Stoneware is heat-resistant to 450°F (230°C). Do not use Stoneware under broiler or on direct heat source. Follow oven manufacturer's guidelines.
Three-year guarantee for noncommercial use. Refer to sales receipt for details.
Tips
Prevent breakage from thermal shock by avoiding extreme temperature changes.

Do not preheat stone.
At least two-thirds of Stoneware surface should be covered with food to avoid thermal shock. Always evenly distribute food over Stoneware surface; avoid clustering foods.
Do not place dense, frozen food items (chicken breasts, pot pies, roasts or chops) on Stoneware. Always thaw dense, frozen food in refrigerator prior to baking.
Foods refrigerated in Stoneware may be placed directly in a preheated oven.
Do not place any other pan or rack on top of Stoneware while baking.

Follow recipe temperature and baking time when using Stoneware. Short bake times (under 12 minutes) may need an additional 1 – 2 minutes.
Safeguards
Hot Stoneware can cause burns if handled improperly. Always use a heat-resistant oven mitt or pad when handling hot Stoneware or placing on surfaces.
Stoneware may scratch surfaces. Protect surfaces by using a protective barrier between Stoneware and surface.
Avoid extreme temperature changes. Always allow Stoneware to cool to room temperature prior to adding liquid or cleaning.
Stoneware can break if bumped or dropped. If this occurs, use caution as broken pieces can be sharp and could cause injury.
Stoneware should not touch the sides of the oven or oven door when closed. Do not use chipped or damaged Stoneware.
Made in USA