homepage-session-timeout
We reward all Pampered Chef party hosts with free, half-price and discounted products.
Plus, it's Pampered Chef's 35th anniversary! To celebrate, we'll add an extra $35 in free product value to your host rewards when you host in October.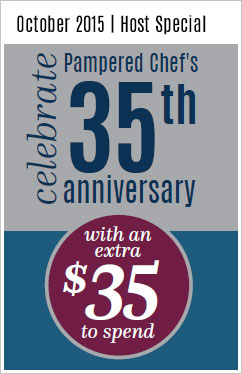 © 2015 Pampered Chef used under license. Pampered Chef, Pampered Chef and Spoon design, PC and Spoon design and Spoon design are trademarks used under license.
There was an error loading the Component. Please try again later.
Your Session Has Timed Out
Sorry, your session has timed out due to inactivity. If you were not signed in, any items in your cart have been removed. Click OK to keep shopping with this Consultant!
Ok