Find Your Fresh New Favorites!
The new season is here! We have hot new products and recipes to keep your spring and summer exciting every single day. You're going to love spending less time prepping and more time enjoying your meals—we've got the kitchen tools and must-read tips to help you share fresh,
easy meals with your family!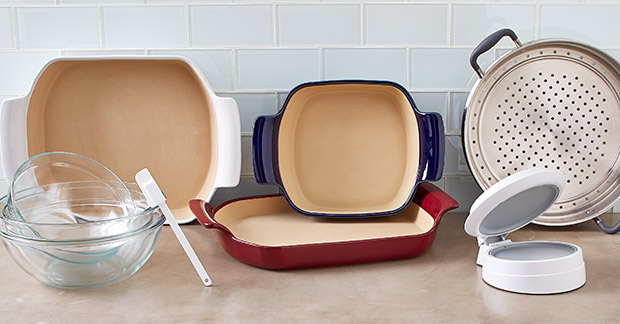 Stunning New Stoneware

Whether you're already a big fan of our Stoneware, or you haven't started your collection yet, every kitchen needs a piece from the new Contemporary Classics™ Collection. These oven-to-table Stoneware pieces feature everything that's most loved about our Stoneware, now with a modern look and stylish colors. With delicious new recipes just for these stones, we know you'll reach for a piece from the Contemporary Classics™ Collection every day. Try Roasted Lemon Herb Chicken Breasts in the Shallow Baker, Pan-Roasted Vegetables with Spinach in the Large Baker, or Berry Streusel Coffee Cake in the Small Baker.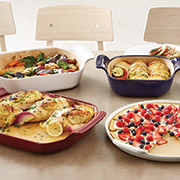 Save SO Much Time!

Love cooking with pint-sized favorites like seedless grapes, cherry tomatoes, or fresh balls of mozzarella? Hate how much time it takes to cut them in half one by one? The new Close & Cut will save you tons of time prepping smaller foods for your recipes—and it's perfect for splitting bagels and butterflying chicken breasts. See this hot new tool in action here.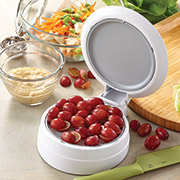 We Keep You Covered

Never scramble for the aluminum foil again! These new Easy-Fit Silicone Covers form a suction fit to cover smooth-edged pans and bowls during cooking and storing. Plus, they double as a trivet to keep hot dishes off the table or countertop. Check out the video to see how they work!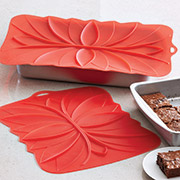 Steam-Power Your Meals

Save time preparing fresh veggies—try steaming instead of baking or roasting! With the 12" Steamer Insert, you can steam up to 2lbs. of veggies or 4lbs. of red potatoes. You can even steam chicken or fish! This insert fits the Stir-Fry and 12" Skillets, so it'll be right at home in your kitchen collection. Try the Warm Bistro Chicken Salad to showcase this product's skills!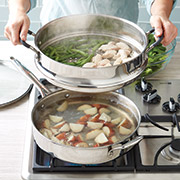 Super Salads!

Become a salad pro with the new Fresh & Fast Main Dish Salads recipe cards collection. Learn techniques using Pampered Chef® tools, produce and protein tips, and six fresh recipes that'll keep you satisfied. Check out one of these fabulous salads—Ribboned Melon and Chicken Salad.
Ribboned Melon and Chicken Salad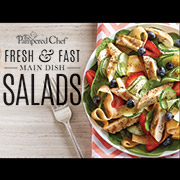 Fresh Tastes for the New Season

Looking to make something fast, fun and fabulous? Get 15 all-new recipes for this season in Season's Best®! With full-color photos and easy-to-follow instructions, these appetizers, main dishes and desserts are sure to become favorites around your table. For a sample of what's inside this season, check out Lemon Artichoke Pasta, Fresh Blueberries & Cream Cakes and Grilled Mediterranean Pizza.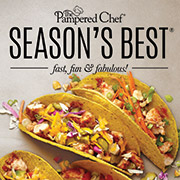 ---
See more of what's new for Spring/Summer!
Check out this season's new videos.