Stainless Steel 8" Sauté Pan
Item Number 2879
Superior heat distribution for browning and sautéing. Stainless Steel Cookware is Tri-Ply Clad, a thick aluminum core between an interior layer of 18/10 stainless steel and an exterior layer of 18/0, for durability and faster, more even heating.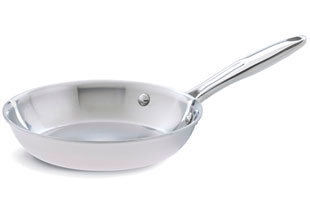 Stainless Steel 8" Sauté Pan
Item Number 2879
$62.00
Add To Cart
Stainless Steel 8" Sauté Pan
The interior surface of our premium-quality Stainless Steel 8" Sauté Pan promotes excellent caramelization, making it ideal for searing, browning meats, sautéing fish and veggies and creating flavorful pan sauces and gravy. This cookware features a top-of-the-line triple-layer construction for superior durability and consistent results, and it's versatile enough to go from the stove right to the oven or broiler.
Details
8".
Tri-Ply Clad construction—a heat-conducting aluminum core between an 18/10 stainless steel satin interior layer and a polished stainless 18/0 exterior layer for durability and faster, more even heating.
Extra-long handle for a cool, comfortable grip.
Flared rim for dripless pouring.
Safe for use on gas, electric and induction cooktops.
Oven- and broiler-safe to 500°F.
We stand by our Stainless Steel Cookware—it's guaranteed for life.
Dishwasher-safe.
Email
Print
Use & Care
Cleaning:
Wash prior to first use; cookware and lid are dishwasher-safe. Dry completely before storing.
As needed, deep cleaning with a stainless steel cleanser will restore the luster of stainless cookware as well as remove build-up and discoloration. Stainless cleansers and cleanser-polishes are readily available at grocery stores.
To remove food residues, soak in hot, soapy water. A nonabrasive sponge, cloth, or kitchen brush may be used on exterior and interior surfaces, including rivets. To maintain a clean and shiny lid, periodically clean with a cloth dampened with vinegar or lemon juice. Rinse and dry completely.
To remove water spots or discoloration, use a vinegar solution of equal parts water and vinegar. Apply vinegar solution with sponge or cloth. Allow to sit for 10 minutes. Rinse and dry completely.
Do not use abrasive cleansers, such as steel wool, cleansers with chlorine bleach or oven cleaning solutions as this may permanently damage the stainless surface and void the guarantee.
Cooking:
Cookware is oven-safe to 500°F/260°C and is broiler-safe. Glass lid is oven-safe to 400°F/200°C.
Cookware may be used on a glass or ceramic cooktop, electric coil, gas burner range, or induction (magnetic) range. Exterior surfaces of cookware and induction, glasstop and ceramic cooking surfaces should be clean and free of food residue prior to heating (consult manufacturer's instructions before first use).
Select a burner size that matches the diameter of the cookware base. For gas stoves, flames should not extend beyond base of cookware.
Use appropriate heat level for cooking application. Overheating cookware can cause discoloration. Discoloration (blue-colored tint on exterior surface) will not affect function of cookware.
Low heat: simmering liquids, warming food and preparing delicate sauces
Medium to medium-high heat: preheating, sautéing, searing, frying, stir-frying
High heat: boiling and reducing liquids only
For best results when sautéing or searing, preheat cookware before adding food. Do not preheat empty cookware. While cookware is cold, add small amount of cooking oil (note: aerosol non-stick sprays may create a sticky residue which is difficult to clean if not washed promptly or overheated). Preheat for 1-2 minutes on medium to medium-high heat setting. Add food and adjust heat setting as needed.
Add salt to liquids once a boil is reached. Salt will not absorb into cold water and may leave small white marks on stainless surface. Salt should also be added to foods towards the end of cooking.
Nylon, wooden and plastic tools are recommended to maintain beauty of stainless steel. Metal whisks and non-sharp metal utensils can be used, but may scratch the surface. In time, stainless will show wear from normal use.
Safeguards
Keep small children away from the stove while you are cooking. Be careful around the stove as heat, steam and splatter can cause burns.
Never allow your pan to boil dry or leave an empty pan on a hot burner as the pan can get extremely hot.
Gas flames should not extend up sides of the pan.
Always use a heat-resistant oven mitt or pad when handling hot handles. Handles will be very hot when removing from oven or broiler.
For use on induction, flat glass or ceramic cooktop surfaces, consult the manufacturer's instruction manual before first use.
Lifetime guarantee for noncommercial use. Refer to sales receipt for details. The guarantee excludes damage caused by abuse or misuse (such as improper cleaning, overheating, use of caustic or other unapproved cleaners), ordinary wear and tear, or an act of God.
Made in China