Roasting Pan with Rack
Item Number 2872
Hard-anodized aluminum pan includes nonstick rack and two spouts for left- or right-handed pouring.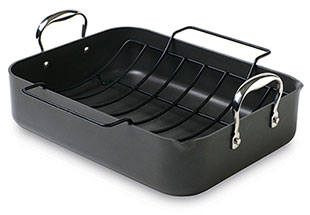 Roasting Pan with Rack
Item Number 2872
$125.00
Add To Cart
Roasting Pan with Rack
Exclusive hard-anodized aluminum pan features a DuPont™ nonstick coating on the inside and out for easy clean-up. Features two pour spouts for left-or right-handed pouring and easy gravy making. Perfect for roasting poultry, large cuts of meat (up to 20 lbs), or baking casseroles. Nonstick rack elevates meat for optimal airflow to obtain even cooking and browning. 16" x 12" x 3¾".
Email
Print
Use & Care
Standard Care: Hand wash ONLY using hot, soapy water with nonabrasive sponge or cloth. Wash pan prior to first use; never place in a dishwasher. Thoroughly clean cookware after every use.
Deep Cleaning: To remove stubborn spots, soak in hot, soapy water and wash by hand; never place in a dishwasher. A nonabrasive sponge or cloth may be used to rub exterior and interior surfaces. For tougher food buildup or occasional deep cleaning, prepare a baking soda paste by mixing ½ cup/125 ml baking soda with 3 tbsp/45 ml water. Apply to desired areas and let stand for 15-20 minutes. Wipe off excess paste, rinse thoroughly and towel dry. To remove residue from rivets, clean with a kitchen brush.
Mineral buildup can occur with normal use from boiling water or preparing starchy foods. To remove, wipe interior clean with nonabrasive sponge or cloth dipped in white distilled vinegar. Rinse and hand wash with hot, soapy water.
Storage: To help reduce scratches on interior and exterior coatings, place paper, soft cloth towels or The Pampered Chef® Cookware Protectors between pans when storing.
Cooking
Stovetop Use: Cookware is intended to be used on low and medium heat settings and mediumhigh heat for short intervals. Prolonged use at higher heat settings will void the guarantee.
Low heat: simmering liquids, warming food and preparing delicate sauces
Medium heat: preheating, sauté, searing, frying, stir-frying
High heat: boiling and reducing liquids only
Cookware may be used on a glass or ceramic cooktop, electric coil or gas burner range. Do not use on induction cooktops. For gas stoves, flames should not extend beyond the base of the cookware. Always match diameter of cookware to glass top and ceramic cook top burner diameters and position the vessel centrally over the burner. Glasstop and ceramic cooking surfaces should be clean and free of food residue (consult appliance manufacturer's instruction manual before first use). Preheating of pans should not exceed 3-5 minutes. Never leave an empty pan with the burner on as it could lead to warping or damage of the nonstick coating. This will also void the guarantee.
Nonstick Sprays and Oil: Do not use nonstick sprays on the cookware as they cause an invisible buildup and impair the nonstick coating performance. Do not overheat oil, butter or shortening. This will create a sticky residue that will affect the release of the nonstick and also result in a reduced life of the coating.
Utensils: Do not use any type of metal utensil with this product(s) as they will cause permanent damage to the nonstick coating and will void the guarantee.
Oven Use: Cookware is oven safe to 400°F/200°C. Caution: Always use a heat-resistant oven mitt or pad when handling a hot pan.
Broiler: Never place this product under the broiler. The nonstick coating and the handles will be severely damaged, voiding the guarantee.
Microwave and Outdoor Grill: Not microwave- or outdoor grill-safe.
Sliding Pans: Avoid sliding or dragging cookware over the surface of your stovetop, especially glasstop ranges, as scratches may result and are not covered by the guarantee.
Safeguards
Steam and Splatter: Keep children away from the stove while cooking. Be careful around the stove as heat, steam and splatter can cause burns.
Unattended Cooking: Never allow cookware to boil dry or leave an empty pan on a hot burner as the pan can get extremely hot. This could lead to warping or damage of the nonstick coating.
Fumes: Do not overheat your nonstick pan as smoke or fumes from burning foods, oils and the nonstick coating itself can be hazardous to the respiratory systems of pet birds.
Gas Flames: Gas flames should not extend up the sides of the pan. This will damage the exterior of the pan and handle, voiding the guarantee.
Hot Handles: Always use a heat-resistant oven mitt or pad when handling hot handles.
Cooktop Surfaces: For use on flat glass or ceramic cooktop surfaces, consult the appliance manufacturers instruction manual before first use.
Lifetime Guarantee
Lifetime guarantee for noncommercial use. Refer to sales receipt for details. The guarantee is limited and covers defects in materials and workmanship. The guarantee excludes damage by abuse or misuse (such as lack of or improper cleaning, overheating, dishwasher cleaning, use of caustic or other unapproved cleaners or use of nonstick sprays), ordinary wear and tear, or act of God.

Product returned is subject to inspection for proper use and care.
Troubleshooting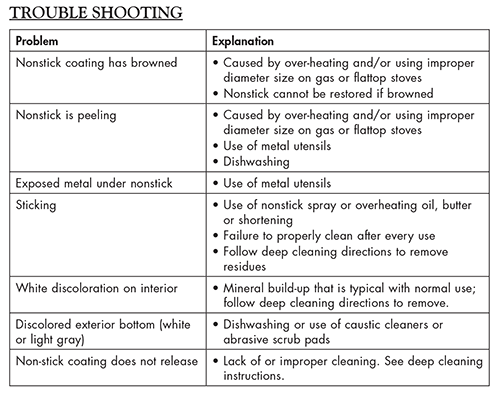 Made in Thailand