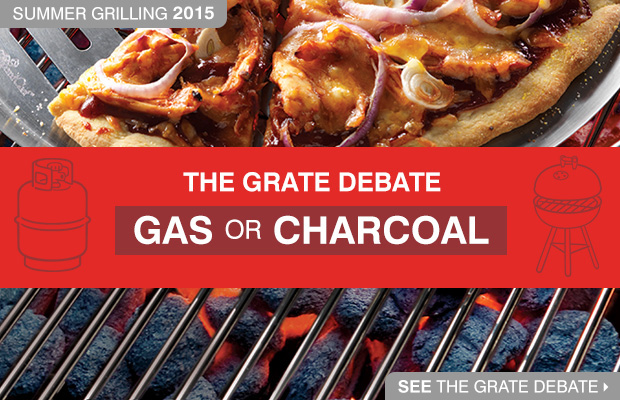 Grilling Recipes
Be the talk of every barbecue and picnic this summer with recipes that are sure to bring the heat.

10 Tips for Great Grilling
Keep your grill clean with the BBQ Cleaning Brush. Make sure to check the grease tray before and after cooking.
Make sure you have enough fuel to finish cooking your meal.
Trim extra fat off meat before cooking, and keep a spray bottle (or water gun) handy to reduce flare-ups.
Toss out your used marinade!
Pay attention! Watch for flare-ups, and to make sure your food isn't getting over (or under) cooked.
Keep the lid closed, and only peek when you need to.
Use a meat thermometer to check that food is thoroughly cooked. Allow some extra time on cool, windy and rainy days.
Keep meats juicy by checking the temperature in the same spot and using tongs to turn and move them.
Move food around if you notice things aren't being cooked evenly.
Move the plate that held the raw meat right away and grab a clean one for when your food is done.
Make sure your summer is full of flavor and fun. These tools, pantry products and tips will help you make the most of the season!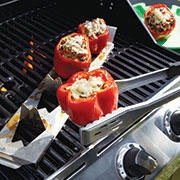 BBQ Cookware
and
Tools


With this easy-to-use chart and some quick preparation, you can make amazing vegetables to serve
with any meal.
Prepare grill for direct cooking over medium-high heat.
Prep your vegetables as instructed below.
Brush or spray veggies with vegetable or olive oil; sesason with salt and black pepper, if desired.
Place vegetables on the grill, as indicated.
Grill, covered, turning or stirring as needed until grill marks appear and veggies reach desired doneness.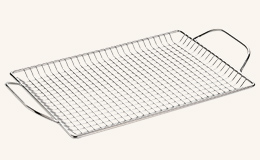 Using BBQ Grill Tray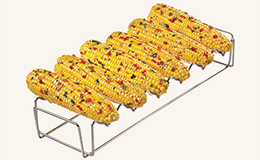 Using BBQ Corn
& Skewer Rack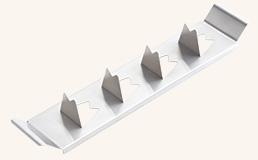 Using BBQ Vegetable
Rack
Stuff with your favorite filling.
Small: 23 - 30 minutes
Medium: 33 - 38 minutes
Large: 45 - 56 minutes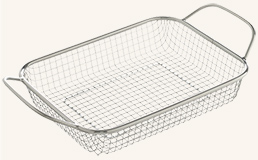 Using BBQ Grill Basket
Mushrooms

White or Cremini
Wipe off with damp paper towel
Cut into ½-in. (1-cm) slices
Cut into ½-in. (1-cm) slices
Potato Wedges

Russet, Yukon Gold and Sweet
Only peel sweet potatoes. Cut into 1-in. (2.5-cm) slices
Tomatoes

Vine Ripened or Beefsteak
Rremove stems; cut in half
Yellow Summer Squash
or Zucchini
Cut into ½-in. (1-cm) slices or planks

Step 1: Light it right!
Gas Grills:
Check to make sure you have enough gas.
Uncover the grill, set the heat to high and ignite the gas. Check to make sure the gas is lit. If it doesn't ignite, turn the gas off and keep the lid open for a few minutes before trying again.
Light the other burners on high, close the lid and preheat the grill for 10 – 15 minutes.
Indirect Cooking on Gas Grills:
Preheat as instructed above and then turn off the center burner(s). If your grill only has two burners, turn one of them off.
Place a drip pan under the area where you'll be cooking, and grill over the unlit burners.
Charcoal Grills:
Light the coals (about 50 briquettes). Spread out the coals for direct cooking when they are evenly coated with ash (about 30 minutes).
Direct Cooking:
is used to grill foods that generally take less than 25 minutes to cook
Once the coals are covered with ash, spread them evenly over the fire grate in a single layer.
Place the food on the grill grate.
Indirect Cooking:
is used to grill foods that generally take less than 25 minutes to cook
Position a drip pan in the center of the fire grate with the hot coals spread around (A) or to the sides (B) of the grill.
Place the food on the grill grate over the pan.
Cover the grill.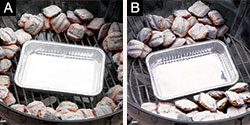 Step 2: Some like it hot
Gas Grills:
Just preheat the grill on high for 10 – 15 minutes, and then lower the heat to the desired temperature.
Charcoal Grills:
After the grill is preheated (about 30 minutes) and the coals are spread out, here's a rule for the amount of additional time you should wait before adding food:
For medium-high heat,
wait an additional 5 – 10 minutes.
For medium heat,
wait an additional 10 – 20 minutes.
For medium-low heat,
wait an additional 15 – 30 minutes.
---
Step 3: To stick or not to stick
Lightly coat the grill grate with vegetable oil right before the food goes on. Start with a folded paper towel soaked in vegetable oil. Hold the towel with BBQ Tongs and brush it along the grate.
Note: Never spray nonstick cooking spray or oil directly over a hot grill.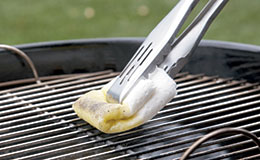 ---