Game On
When the game is on, your TV is permanently tuned into ESPN®, and your living room sectional is full of hungry sports fans. Serve up these game-themed eats and you're sure to score some major points.
Nothing tastes sweeter than victory. Well, except for chocolate-dipped strawberries! Give these sweets a game day flourish with an easy-to-create football design. Melt six squares of coarsely chopped semisweet baking chocolate using the Double Boiler then remove from heat. Holding the leaves, dip strawberries in the chocolate, allowing excess to drip off. Place on a parchment-lined Medium Sheet Pan and refrigerate 10 – 15 minutes. Melt two squares of coarsely chopped white baking chocolate and pour into a small plastic bag. Trim a corner of the bag, pipe "laces" on as shown and refrigerate about 5 minutes. Just make sure guests don't tackle each other to get them!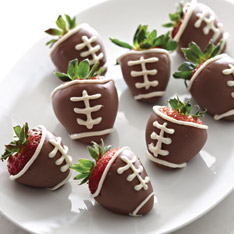 When the game gets serious, lighten the mood with goofy pizza faces made with our Pizza Crust Mix. Prepare the mix according to steps 1 and 2 of package directions. After the dough rests, divide it in half then divide each half into fourths to create 8 balls. Place on a lightly floured surface and roll into 6" rounds. Prick the entire surface of the dough with a fork. Place on two pieces of Stoneware and bake on the lowest oven racks 15 minutes or until golden brown, rotating stones halfway through. Top pizzas with sauce, cheese and veggies then bake 5 – 6 minutes or until cheese melts. Ideas for faces: Zucchini slices, broccoli florets, bell pepper rings and slices, cherry tomatoes, sliced black olives and thinly sliced carrots.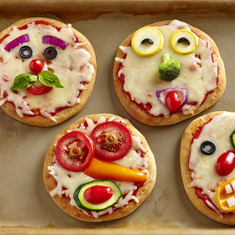 Close
"Nacho" Average Snack
Be the MVP of the day when you replace tortilla chips with grilled zucchini slices for a healthy spin on nachos. Heat the Double Burner Grill over medium heat 3 – 5 minutes. Cut three zucchinis into ¼"-thick pieces using the Crinkle Cutter then toss with oil, salt and pepper in the Classic Batter Bowl. Place in a single layer on the pan, cover with two Grill Presses and cook 5 – 6 minutes, turning once, until grill marks appear. Sprinkle with ½-cup shredded cheddar cheese and cook until the cheese is melted. Arrange the zucchini on a platter and top with mixture of half of a 15-oz can of black beans, 1 small seeded and chopped tomato and 1 tbsp Chipotle Rub. Add other fan favorite toppings of your choice.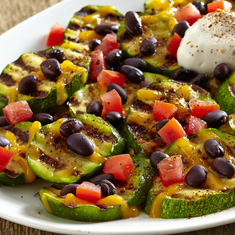 Chili and football go hand-in-hand, and this recipe lets you pile on the flavor without using any meat! Spray a 4-qt. Casserole with oil. Cook 1 medium chopped onion, 1 medium chopped green bell pepper and 2 garlic cloves pressed with Garlic Press over medium heat 2 – 3 minutes or until vegetables are crisp-tender. Stir in 2 cans (15 oz each) black beans (rinsed and drained), 1 can (28 oz) diced tomatoes (undrained), 1 can (15 oz) tomato sauce and 1 tbsp chili powder. Bring it to a boil over medium heat then cover and simmer over medium-low heat 30 minutes. Serve it in bell pepper cups — just hollow out peppers with the Scoop Loop™ — and garnish with sour cream and cilantro.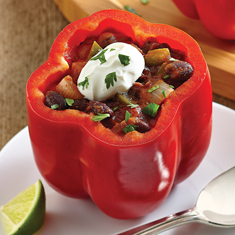 Put all the fun and flavor of taco dip in a bite-sized cup without all the double dipping.
Recipe
2 pkg (1.9 oz each) prepared mini phyllo shells (30 shells total)
½ lb 90% ground beef
1 tbsp Tex-Mex Rub
3 oz shredded Colby & Monterey Jack cheese
¼ cup salsa
¼ cup sour cream
2 tbsp chopped fresh cilantro
Preheat oven to 400°F. Arrange phyllo shells on Large Sheet Pan. Cook beef and rub in 11- or 12-in. Skillet over medium-high heat 8 – 10 minutes, until beef is no longer pink. Drain. Using Small Scoop, divide meat mixture into phyllo shells. Sprinkle cheese over meat mixture. Bake 3 – 4 minutes or until cheese is melted. Garnish each cup with a dollop of sour cream. Top with salsa and cilantro.
Yield: 30 servings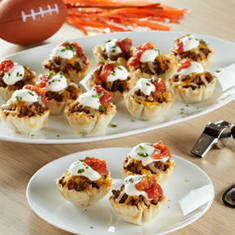 Prevent food fumbles! With these savory Mini Football Sliders, French roll pockets protect a yummy meatball, just like an offensive line protects their quarterback. To make this savory little snack, cut 1 (11 oz) package of refrigerated French bread dough into 24 discs and bake 14 – 16 minutes at 400°F on the Large Round Stone with Handles. While the bread cools, form meatballs by combining 1 lb 90% lean ground beef, ½ cup seasoned bread crumbs, 2 eggs, 2 tbsp Three Onion Rub, 2 garlic cloves, pressed with the Garlic Press, and ½ tsp salt in Classic Batter Bowl. Spread 2/3 cup of a 14 oz-jar of spaghetti sauce over the bottom of the Square Baker. Shape Medium Scoop-sized amounts of the meat mixture into mini football shapes and bake 10 minutes in the baker. Pour remaining sauce over the meatballs and continue baking 18 – 20 minutes or until internal temperature reaches 160°F. Top each meatball with shredded mozzarella cheese to create laces and bake 2 more minutes. Hollow out the middles of the bread rounds using the Core & More and place the meatball into the bread.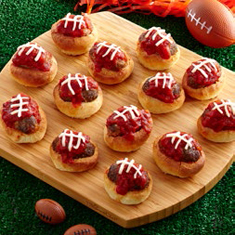 Homemade potato chips with a little garnish add big wow factor to any party. Add amazing color to a plate by using sweet potatoes and red or purple potatoes.
Recipe
1 medium sweet potato or 2 medium Yukon gold, red or purple potatoes
¼ tsp salt
½ pkg (4 oz) cream cheese, softened
¼ cup loosely packed cilantro
2 tbsp medium salsa
1 tsp Chili Lime Rub
¼ cup chopped pitted, ripe olives (black and green)
1 green onion top, thinly sliced
Slice potatoes into thin slices, using #1 setting on Simple Slicer. Place slices on a paper towel; blot with additional paper towel to remove excess moisture. Arrange slices in a single layer on both trays of the Microwave Chip Maker. Sprinkle with salt. Stack trays and place in center of microwave. Microwave on HIGH 3 minutes, checking after 30 seconds for desired crispness. Meanwhile, process cream cheese, cilantro, salsa and rub in Manual Food Processor until well blended. Spoon cream cheese mixture into small resealable plastic bag; trim a small corner. Pipe filling onto chips. Top with olives and green onion.
Yield: About 40 Potato chips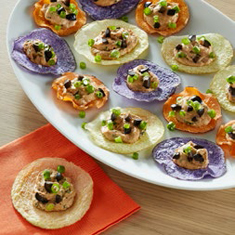 Close
Touchdown Pretzel' N Cheese
Cheese in the shape of a football! Is there anything better?
Recipe
2 green onions, chopped
2 pkg (8 oz each) cream cheese, softened
1 pkg (8 oz) shredded sharp cheddar cheese
½ cup mayonnaise
3 tbsp Dijon Mustard Rub
½ tsp Worcestershire sauce
1 cup pretzel twists
1 stick string cheese (about 1 oz)
In Classic Batter Bowl, mix green onions, cream cheese, cheddar, mayonnaise, rub and Worcestershire sauce until well blended. Refrigerate, covered, 2 hours or until firm. Process pretzels in Manual Food Processor until coarsely chopped. Form cheese mixture into football shape on a platter; coat with pretzel crumbs. Cut string cheese in half lengthwise. Cut one of the halves into thirds crosswise. Arrange cheese on football to look like laces. Press down into cream cheese mixture. Serve with crackers and additional pretzels, if you'd like.
Yield: 30 servings
Move over, state fair. Mini corndogs are now an easy everyday treat to be enjoyed on game day, after school or anytime in between. Simply mix up an 8.5–oz. box of corn muffin mix according to package directions. Preheat the oven to 375°F and spray the Deluxe Mini–Muffin Pan with nonstick cooking spray; divide the batter among the muffin cups. Slice hot dogs into 1–inch pieces; place one piece in each muffin cup. Bake 10 – 12 minutes or until wooden pick in center comes out clean.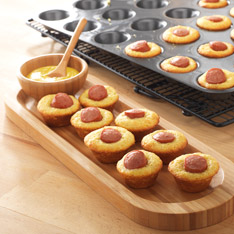 The Brownie Pan is a touchdown for Double Chocolate Brownie Footballs. To make brownies, combine 1 pkg (10.25 oz) fudge brownie mix, ½ cup semi-sweet chocolate morsels, melted, ½ cup flour, 2 eggs, ½ cup canola oil and ¼ cup water in Classic Batter Bowl. Bake in Brownie Pan coated with nonstick cooking spray with flour in 325F° oven for 15-17 minutes or until brownies are done.
Invert wax-lined cooling rack over pan; flip over to release brownies. Cool completely. On a Large Grooved Cutting Board cut the two opposite corners off each brownie to make footballs. Dip them in melted chocolate, place in the freezer for five minutes or until set. Draw laces on each brownie with decorating cookie icing.
Tip : Freeze leftover brownie bits as mix-ins for ice cream.