Sorry!

The page you're looking for isn't here.

It may have been moved, deleted or we're working to make it even better. (The page might not even exist!)

Try our home page for a new direction.
But wait…
Here's a recipe to make it up to you!
Cheeseburger Meatballs & Pasta
---
Ingredients
2 slices white sandwich bread, torn into pieces
1 small onion, finely chopped
1 egg
3/4 tsp (4 mL) each salt and ground black pepper
12 oz (350 g) 90% lean ground beef
1 tbsp (15 mL) canola oil, divided
3 cups (750 mL) chicken stock
2 tbsp (30 mL) flour
6 oz (175 g) uncooked campanelle pasta (11/2 cups/375 mL)
4 oz (125 g) chive & onion 1/3 less fat cream cheese spread
6 oz (175 g) sharp cheddar cheese, shredded (11/2 cups/375 mL), divided
2 cups (500 mL) broccoli florets
Directions
Combine bread, onion, egg, salt and pepper in a large bowl; mix until a smooth paste forms. Add beef; mix gently but thoroughly. Using a level Small Scoop, scoop beef mixture, forming about 36 meatballs.


Heat ½ tbsp (2 mL) of the oil in Rockcrok (2.5-qt./2.35-L) Everyday Pan over medium heat 2-4 minutes or until shimmering. Cook half of the meatballs 3-4 minutes or until browned, turning occasionally. Remove from Pan. Repeat with remaining oil and meatballs; remove from Pan.


Whisk stock and flour until smooth; add to Pan. Stir in pasta; cook, covered, 9-11 minutes or until pasta is almost tender, stirring occasionally. Stir in cream cheese spread and half of the cheddar until sauce is smooth. Stir in broccoli and meatballs. Cook, covered, 2-3 minutes or until broccoli is tender; remove from heat.


Top with remaining cheddar; cover and let stand 1-2 minutes or until cheese is melted.


Yield: 6 servings servings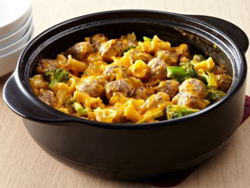 Nutrients per serving: Calories 450, Total Fat 23 g, Saturated Fat 11 g, Cholesterol 110 mg, Sodium 890 mg, Carbohydrate 30 g, Fiber 2 g, Protein 28 g
U.S. Diabetic exchanges per serving: No information is currently available.
©2014 The Pampered Chef used under license.