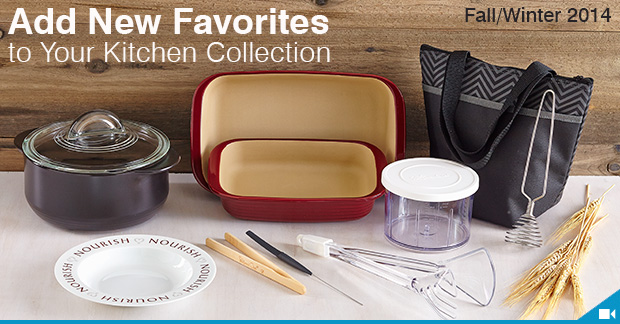 The Fall/Winter season has arrived! We have exciting new
products
and
recipes
to help you share mealtimes with your family. You're going to love everything this season has in store for you—mouthwatering meals, high-quality kitchen tools, and tips to help make every day special.
Hot new Stoneware

Looking for a way to bring a meal from oven to table that's both stylish and versatile? The new Rectangular Baker Set features three vessels of different sizes so you can get an entire meal done easily. Plus, the fashionable cranberry glaze looks great in every kitchen. Make Fiesta Chicken and Rice Bake in the medium Baker and Microwave Caramel Peanut Butter Brownies in the small one to effortlessly impress everyone who joins you at the table!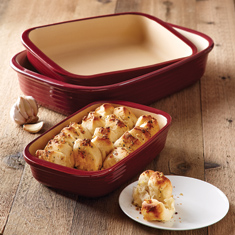 Say hello to the newest Rockcrok®!

Whether you love the original Rockcrok® or haven't picked one up yet, the new Rockcrok® Casserole is a must-have for your kitchen! It's the perfect size to create incredible appetizers, desserts, side dishes or smaller portions of soups and chilis for chilly nights. And because you can use Rockcrok® with any heat source, you save time and mess with one-pot meals! Each Rockcrok® has exclusive recipes, too…check out Easy Twice-Baked Potato Casserole and Peanut Butter Chocolate Pudding Cake, specially designed for the Rockcrok® casserole!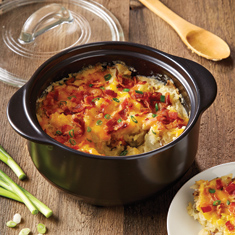 Mealtime mission

Giving back has always been an important tradition at The Pampered Chef®. This season you can purchase the Round-Up from the Heart® Nourish Soup Bowl and $2 will be contributed to Feeding America®—the equivalent of 18 meals for families in need. This bowl is the perfect complement to Chicken & Orzo Soup —or any of your favorite soup recipes—and serves as a reminder of the importance of helping others. Watch the video to see Dons share her passion for Round-Up from the Heart® and the importance of giving back.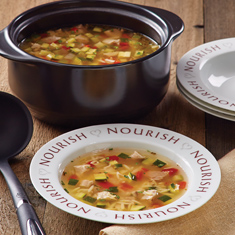 Rich new flavors for the season!

The new Season's Best recipe collection features 15 all-new, fast, fun, and fabulous recipes that put a delicious spin on some best-loved favorites. With beautiful color photos and easy-to-follow instructions, these appetizers, main dishes, and desserts are sure to become regulars in your recipe rotation. For a taste of what's inside, check out Chipotle Chicken Nacho Dip, Easy No-Stir Risotto and Cinnamon Bun Apple Cobbler—all new for the season!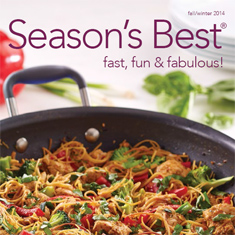 ---
See more of what's in store for Fall/Winter!
Check out this season's new videos.