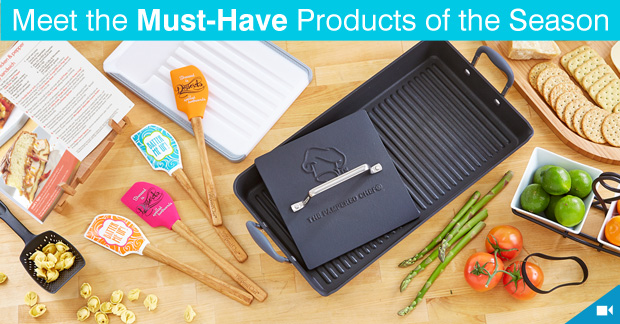 Our NEW Spring/Summer season is here and we've added
new products
and
recipes
that will help to make your life delicious! You're going to love sharing fresh new meals, kitchen products, and backyard fun with your family this season.
A Grill With Wow-Factor

Cook for a crowd or your entire family in one batch with our new
Double Burner Grill. Our Test Kitchen Chefs have developed a delicious Grilled Short Order Burger recipe that everyone will enjoy out on the deck
or patio on a warm spring or summer evening.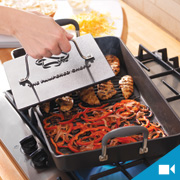 Grow it Yourself

Freshness and flavor are as close as your backyard when you create
your own "farm to table" experience with your family. Our new line of Gardening Tools will make it easy and enjoyable to get everyone out in the yard, no matter their level of gardening experience. Plant, grow, and harvest your own delicious produce and enjoy the fruits (and veggies) of your labor in a meal around the (picnic) table.
Make Less Mess

Who isn't going to LOVE the new Scoop Loop? Spring and summer mean tons of yummy, fresh fruits and veggies to pick from…and lots of seeds to get rid of! The Scoop Loop is a nifty, new kitchen must-have that easily removes the seeds from your favorite fruits and vegetables. It quickly takes the yuck and mess out of prepping your produce so you can spend more time enjoying it. So cool!
Fresh, Seasonal Inspiration

Spring and Summer inspire fresh, new flavors and our new Season's Best recipe collection brings you just that. Fifteen all-new, fast, fun, and fabulous recipes put a fresh spin on some familiar favorites. With beautiful color photos and easy-to-follow instructions, these appetizers, main dishes, and desserts are sure to find a regular spot in your recipe rotation. Try whippin' up these new ones for your family to enjoy!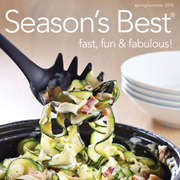 ---
Welcome Spring and Summer with open arms and
make it delicious for you and your family.